WinWAP for Windows FAQ
First time you run WinWAP on your PC
Until you register WinWAP, you can only browse pages on the winwap.com website. In order to open any pages, you should select "Register WinWAP" from the "Help" menu.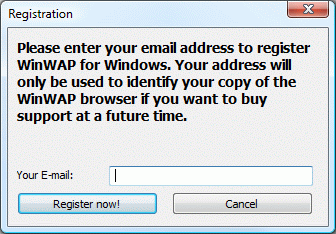 Register now! Enter your email address and click on the 'Register now!' button to register WinWAP. Entering the email address is optional and the email address would only be used to identify your copy of WinWAP should you want to purchase support.
Note that you must be connected to the Internet to register WinWAP. When registering it sends non-identifiable information about your computer that allows WinWAP to create individual licenses for your computer.
If registration fails, then follow these instructions to make sure your network settings are correct:
To configure your network settings you should open the 'Edit' | 'Options' menu.
Make sure that HTTP mode is selected and that proper HTTP proxy settings are set in the 'HTTP' tab if you should use a HTTP proxy. These settings are automatically imported from the system internet settings when you install the WinWAP browser for the first time, so they should be correct if your Internet Explorer can connect to websites.
Check if your network is working by opening http://portal.winwap.com because this page works without registration!
If you can successfully open the page in step 2 above, then the network is working and you also can register WinWAP. So, now select 'Register WinWAP' from the Help menu.
Enter your E-mail address.
Click on the 'Register now!' button.
Can I upgrade my WinWAP 3.x or 4.1 to WinWAP 4.2?
Yes, just download the new version and install it. Your previous registration is not re-used so you will have to register WinWAP 4.2, but it's free of charge.
How do I switch between HTTP and Gateway modes?
Go to the menu EDIT -> OPTIONS and select the General Tab. In that tab you can select the connection mode.
What is the difference between HTTP and WAP Gateway modes?
HTTP is the same protocol that is used with your normal web browser to open pages on the internet. In Gateway mode all data passes through the gateway that in fact compresses the data so that it loads faster over a slow connection. If your own connection to the internet is as fast as the gateways connection to the internet, it is in fact faster to use HTTP mode since you then retrieve the data directly from the URL instead of having the data pass the gateway and be processed in the gateway.
Typically you would always want to use a WAP gateway over non-broadband connections (3G, UMTS, WCDMA or GPRS or other slow dial-up connection) to speed up page loading. In order to use your Telcom Operators services you will need to connect to their WAP gateway, using a connection from a mobile phone that has an account from the same Telecom Operator.
Where do I get an address for a WAP Gateway?
If you are using a 3G or GPRS connection your operator will supply you with the WAP Gateway address. There are also a number of gateways on the internet that can be used. WinWAP has a few of these gateways predefined in the gateway list.
Can I save files with WinWAP?
Yes. When unknown content is received, WinWAP will ask if you want to save it to disk. Just follow the instructions to save the content. If WinWAP by itself supports the content then it will be displayed in WinWAP.
Why does WinWAP not work over our LAN (local area network) in HTTP mode?
Your administrator may have disabled direct HTTP connections to the internet. Usually in these situations a HTTP Proxy is available. Ask your administrator for the address and port to the HTTP proxy. The proxy can be defined in the EDIT -> OPTIONS, HTTP Tab.
How do I erase any traces of my surfing?
Turn off all cache parameters and before you are trough clear all the saved history and bookmark lists.
I see the following error message: The ordinal 3724 could not be located in the dynamic link library LIBEAY32.dll, what should I do?
You should download and install the newest version of OpenSSL from www.openssl.org
Why do HTML pages look different then on Internet Explorer or Firefox?
Allthough WinWAP supports HTML 4.01 it is still designed to be a mobile browser so HTML pages do not look precisely as with regular WEB-only browsers. In future versions we may however add full HTML support as well for platforms that are capable of handling the content.