Complete Client and Host Driver solution for USB Modems
To satisfy the requirement of sharing internet from wireless handheld device to PC, we offer a complete USB modem solution (with addtional USB functionality) for Mobile phone manufactures, Wireless & mobile baseband chipset manufactures, Wireless application processor vendors, Middleware and operating systems vendors, Industry OEMs and ODMs.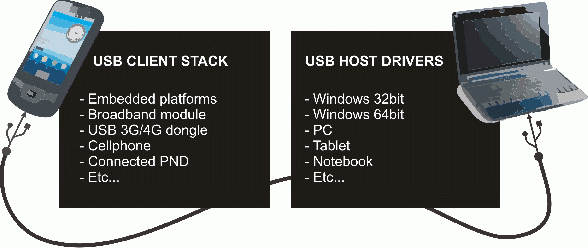 The complete solution consists of 2 main modules, that can be purchased separately or together depending on the requirements you have. Each USB Modem Stack module contains a subset of drivers that you can choose from to provide the specific functionality you need for your specific target hardware.


USB Modem Stack module 1: USB Client Stack

For Embedded platforms like Mobile Phones, Wireless Broadband Modules/dongles. Provides modem sharing, storing and exchanging of music and picture files via Mass Storage or Media Transfer Protocol, and PictBridge printing of images.

This is the software for the device with embedded operating system that includes the Wireless Broadband Modem hardware. The USB Client Stack provides the capability of sharing this modem over USB interface with other deivces, such as notebooks, netbooks or when the Modem will be integrated permanently with hardware (built-in modem with USB interface to host device).


USB Modem Stack module 2: USB Host Drivers

For Windows 7, Windows Vista, Windows XP

The USB Host Drivers are required on the Host Device (Windows XP, Windows Vista or Windows 7) to connect and use an external broadband module that is connected over USB interface. The broadband module (a.k.a USB Modem) could be a Cellphone, Smartphone, Featurephone, USB Broadband Dongle or modem that is integrated with the PC platform by design over USB interface.
For further information please download the

USB Modem Stack Brochure (PDF format) or contact us !