OMA Download Agent for Mobile Devices
The OMA Download Agent is designed for handling the download of objects such as ringtones, images or games using the OMA download Over The Air (OTA) specifications. Any device that includes the OMA Download Agent will thus support posting reports back to the network after download. These reports can be used as the basis for billing or monitoring the quality of the service by making sure customers actually receive the downloads.
Winwap's OMA Download Agent provides a quick way to add OMA Download Over The Air (OTA) capabilities to your mobile device (featurephone, smartphone, GPS with Telephony etc). The Agent can be used either with Winwap's Browser or any other browser as it is provided as a separate application.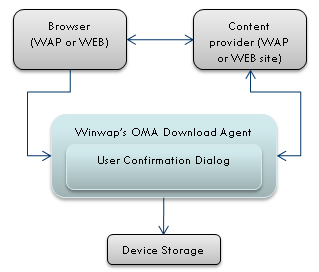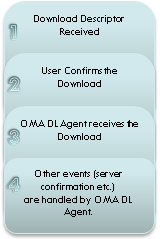 General benefits of OMA Download
Enables various payment models to support launch of e-commerce concepts.
Avoids fragmentation of content space. Content for mobile devices with different capabilities can be published using a consistent concept.
Create commonality between the download process of all types of media: e.g. games, melodies, and pictures.
Enable both automated as well as manual client driven capability negotiation.
Enable a mechanism that allows the initial download solution to be extended with new attributes and functionality.
Quick and easy to implement so that time to deployment is short.
Supported OMA Download Features
OMA Download V1.0 (

OMA [OTA] OMA-Download-OTA-V1_0-20040625-A)

Supports download using both WAP1.x and WAP2.0 protocols.
Supports multipart/related and application/vnd.wap.multipart.related content types.
Separate and combined delivery.
User Authentication.
Simple GUI to display information about object to be downloaded and options for user to decide what to do (download or cancel download).
Object installation support.
For the OMA Download specifications, please visit the
Open Mobile Alliance website
The OMA Download Agent is available for several Operating Systems
The OMA DL Agent is available for a number of platforms, ranging from limited embedded operating systems used on feature- and smart-phones to regular Windows Vista versions. Each version of the Agent will be optimized for the particular device and platform to utilize the possilities the platform provides as well as make it look and feel like any other applications on the platform. Some of the general platforms supported include:

Windows 7, 8, 10, Server
Windows Mobile PPC
Windows Mobile SP
Intrinsyc Soleus
WinCE 2.11/3.x/4.x/5.x/6.x/.Net
View full overview matrix
Please contact us for more information.