MMS Client for connected devices
Add MMS to any networked device
Integrate seamlessly with target platform
Mature and interoperable with all major carriers
Available for many platforms
Total solution includes integration support and ongoing maintenance
The Multimedia Messaging System (MMS) Client was specifically developed to provide a better user experience for MMS while still providing as much technological features as possible. This means that even though it is highly modular in design, it still requires customization for each device it is integrated on to make sure it utilizes everything the specific platform offers. The lower layers of the application are all built using our extremely mature and optimized technologies for message transport and encoding/decoding. These technologies are being used for the most rigorous and demanding Quality of Service measurements and tests performed.
Integrated MMS for embedded platforms
When a device designer or manufacturer get's in touch with Winwap for including the MMS Client on their particular devices, we will customize, and integrate with SMS and Email for a Unified Inbox if needed, to make sure it is a perfect fit for the device at hand. The user interface supports touch-screen, non-touch-screen or combinations of both as well as new technologies with motion sensors etc. The typical target devices have only connectivity in common as it provides the lower level wireless networking used by Telecom Carriers for MMS today. Typically the MMS Client is deployed on:
Smartphones
Featurephones
Personal Navigation Devices(PND)
Digital Photo Frames (DPF)
The MMS Client is built in modules which enable the internal technologies to work independently from the upper layers. The message transport protocols (WAP Stack of protocols) can be integrated into the device system core to be used by other applciations like the Winwap Browser or any other application that needs data transport. The User Interface can be customized to integrate MMS, SMS and Email into one seamless unified inbox messaging experience.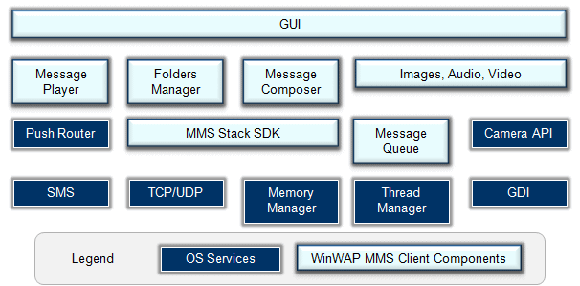 Feature Set
· Support for any screen size
· Direct show support
· 3gp video as attachment
· Support for delivery and read receipts
· Sorting by Sender/Received time/Subject
· Delete, Draft, Inbox, Outbox, Sent items
· Immediate retrieval or Deferred delivery
· Delete, reply, reply all, send to group (by phone book group), forward, move, and change state (read/unread)
· Templates
· Templates customization by user

Text and Bitmap support
· Text Support: US-ASCII
· Text Support: UTF-8
· Text Support: UTF-16
· Bitmap Support: GIF 87a
· Bitmap Support: GIF 89a
· Bitmap Support: WBMP

Video and Audio support
· Video Support: H.263/AMR(.3gp)
· Video Support: MPEG-4/AMR (.3gp)
· Speech Audio support: AMR-NB
· Synthesized Audio: SP-MIDI
· SMIL Presentation: MMS SMIL
· SMIL Presentation: MMS SMIL with Video support
· SMIL frame timing default
· Note: Video and Audio formats supported depend on device capabilities
MMS Creation Modes
· RESTRICTED: In this mode, the MMS Client device shall only create and submit messages with content belonging to the Core MM Content Domain.
· WARNING: In this mode, the MMS Client device shall guide the user to create and submit only messages with content belonging to the Core MM Content Domain. This guidance is implemented through warning dialogs.
· FREE: In this mode, the MMS Client may allow the user to add any content to the message.
Image support
· Gif
· Jpg
· Png
· WBMP

Integration Points
· Dialer, pause on incoming call and dial a phone number
· Common file dialogs, add attachments with common dialog
· Contacts, select a contact to send message to, save phone number in message body as new contact
· Shell indicator, new message
· Picture Viewer, display image files received

Other application integration
· Camera, take and send picture from MMS application, take and send video from MMS application
· Handwriting recognition (if applicable), ability to enter text
· Media player, play sound/video files received
· Browser, load a URL contained in a message

The WinWAP MMS Client is available for several Operating Systems
Windows Mobile Professional
Windows Mobile Standard
Intrinsyc Soleus
WinCE
ThreadX
Brew & BrewMP
Arena & Larena for TD-SCDMA
View full overview matrix
The WinWAP MMS Client is mainly targeted at WinCE based platforms, but it has been designed to be portable to other Operating Systems and platforms as well, and on request we will provide you with a proposal for licensing the MMS Client for your specific platform.
Please contact us for more information.