Winwap browser version 5 is a desktop-equivalent browser for embedded platforms. This browser shows the content in the same way as your regular PC Browser. I order to enhance the experience on small screens the browser has advanced zooming and focus/select capabilities to provide a comfortable browsing experience on any platform. This browser engine was explicitly designed for portability and to run on limited resource devices and can be customized for virtually all embedded platforms in a short amount of time.
Modular design
The browser has been designed to provide the best possible browsing experience on all platforms. The modular design assures that customization and porting to new platforms will be quick. This also keeps interoperability with carrier gateways and services and providing the best browsing experience for the end user.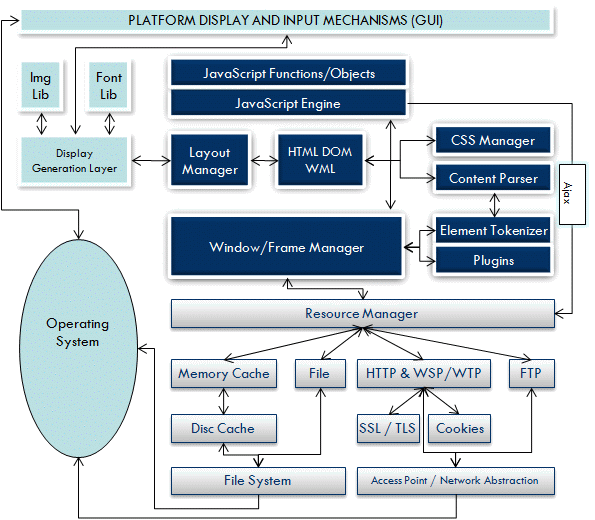 The WinWAP OEM Browser is a desktop-equivalent browser for embedded platforms. The browser shows the same content as your PC browser, and provides zooming features that allows for comfortable browsing on a small screen.

All in One: Full-featured WEB and WAP browser. Small: Footprint starts at ~1,2 Mb, and with all features is ~2,3 Mb. Portable: Platform Independent and easy to port to new platforms. Expandable: NPAPI compliant Plug-in support. User Friendly: Works on both Touch-screen and Non-touch-screen devices. Efficient: Video color-depth from 8-bit grayscale to 32-bit true color. Global: Supports Multiple Character Sets (full Unicode support).
Supported WEB and WAP Standards
XHTML (Full & Mobile Profile)
CSS 2
DOM Level 2
JavaScript 1.7
AJAX
HTTP 1.1 (Keep Alive, Basic and Digest Authentication, Support for gzip)
WSP/WTP (WAP 1.2) Transport and download
WAP Push
Security Protocols
TLS 1.0
SSL 3
WTLS (Optional on some platforms)
Color-Depth & Color-Model
8-bit t- 32-bit
Grayscale or Full Color
RGB565, RGB574, RGB0555, etc.
User Features
Cookies
Cache Management (in memory or persistant)
User-Customized JavaScript Objects
Bookmarks and History
Mouse, Keyboard and Touchpad
Drag to scroll
Zoom in/out/focus
Graphic Formats
JPEG
GIF (Includes Animated)
PNG (With Alpha Blending)
WBMP (Wireless Bitmap)
Adobe Flash (Plug-in Optional)
Supported Text Encodings
Unicode
Shift-JIS, EUC-JP
Big5, EUC-CN
EUC-KR
Cyrillic
ISO8859
Memory Requirements
~2,2 MB ROM (1,3 MB with minimum features)
~2 MB RAM (Depending on complexity of content viewed)
Optional Integration Customization
Dialer, pause on incoming call and dial a phone number
Email, send message to email address from a web page
Picture viewer, download and save new image files
Download and save new ring tones
The WinWAP 5 browser is specifically designed for embedded platforms

The browser is available for a number of mobile device platforms, ranging from regular Windows CE and smartphone platforms to featurephone and embedded RTOS platforms. The browser core is portable to most platforms within a short time and the User Interface can be left open for easy customization to suite any target hardware's look and feel
Windows 7, 8, 10, Server
Windows Mobile Professional
Windows Mobile Standard
Intrinsyc Soleus
WinCE 2.11/3.x/4.x/5.x/6.x/.Net
ThreadX
Arena & Larena for TD-SCDMA
View full overview matrix
Please contact us for more information.